Global overview of injecting drug use and HIV infection
artículo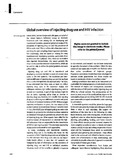 Date
2005-03-19
Author
McCoy, Clyde B.
Rodríguez, Frank
Abstract
Late in 2004, Carmen Aceijas and colleagues, on behalf of the United Nations Reference Group on HIV/AIDS Prevention and Care among IDU in Developing and Transitional Countries, presented global estimates of the prevalence of injecting drug use and the prevalence of HIV in such users.1 These authors did a Herculean task in searching for and compiling these important estimates. Not surprisingly, data are sparse or missing for many transitional and developing countries, particularly those in Africa and the Caribbean.
External link to the item
10.1016/S0140-6736(05)71117-X
Comentario -- Universidad de Costa Rica, Instituto de Investigaciones en Salud. 2005. Este documento es privado debido a limitaciones de derechos de autor.
Collections